Posts for tag: dental implant
By Summit Smile
October 16, 2020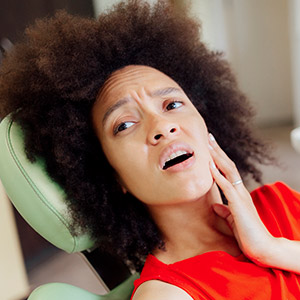 The subject of allergies covers a wide swath in medicine. Among other things, people have allergic reactions to animal fur, various foods and plant pollen. The effects are equally wide-ranging, anything from a mild rash to anaphylaxis, a life-threatening shutdown of the body's vital systems.
Approximately 5% of people are also allergic to various metals including nickel, cobalt, chromium and gold. Reactions to metal can occur when an allergic person comes in contact with items like jewelry, clothing or even mobile phones. There's even a chance of a metal allergy reaction from certain kinds of dental work.
It's unlikely, though, that you should be concerned if you're considering dental treatment or cosmetic work to upgrade your smile. Although allergic reactions like inflammation or a rash have been known to occur with amalgam "silver" fillings, it's quite rare. It's even less of a concern since "tooth-colored" materials for fillings are now outpacing the use of amalgam fillings, which are used in out-of-sight back teeth.
Of course, metal is used for other dental treatments besides fillings, including the most popular of tooth replacement systems, dental implants. An implant is essentially a metal post, usually made of pure titanium or a titanium alloy, which is imbedded into the jawbone. Even so, there's little chance you'll develop an allergic reaction to them.
For one thing, titanium is highly prized in both medical and dental treatments because of its biocompatibility. This means titanium devices like prosthetic joints and implants won't normally disrupt or cause reactions with human tissue. Titanium is also osteophilic: Bone cells readily grow and adhere to titanium surfaces, a major reason for dental implants' long-term durability.
That's not to say titanium allergies don't exist, but their occurrence is very low. One recent study detected a titanium allergy in only 0.6% of 1,500 implant patients who participated.
At worst, you may need to consider a different type of tooth replacement restoration in the rare chance you have a titanium allergy. More than likely, though, you'll be able obtain implants and enjoy the transformation they can bring to your smile.
If you would like more information on allergic reactions and dental restorations, please contact us or schedule an appointment for a consultation. You can also learn more about this topic by reading the Dear Doctor magazine article "Metal Allergies to Dental Implants."
By Summit Smile
August 27, 2020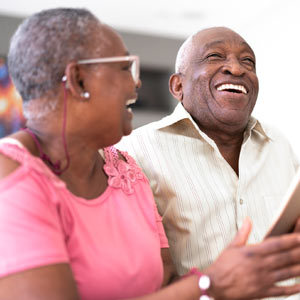 Complete tooth loss is a common condition among older adults, gradually occurring one or two teeth at a time. There often comes a point of realization, though, that all the teeth will eventually be lost.
This can create a dilemma: Do you replace teeth as they're lost, or go ahead and have all of them removed at one time?
Up until recently, the latter choice seemed the most practical and affordable. But most dentists would agree that keeping natural teeth for as long as practical is better for a person's overall oral health and to slow any potential bone loss.
The emergence of dental implants has made this less of a dilemma: We can use this technology to more affordably replace teeth in stages rather than all at once. This is because an implant is technically a root replacement: a dentist inserts a titanium metal post into the jawbone. Because of an affinity with titanium, bone cells grow and adhere to the implant surface, which creates a stronger hold. It also impedes bone loss.
We can, of course, use implants as individual tooth replacements. But the expense of this approach with multiple teeth puts it well out of reach financially for many people. But implants can also be used as connective points between the patient's jaw and other kinds of dental restorations like bridges, partial dentures, and full removable or fixed dentures.
Using this approach, we can adopt a strategy of allowing healthier teeth to remain until it's necessary to remove them. We initially place implants to support a bridge, for example; later we can use the same implants along with additional ones to support a larger restoration, even a fixed full denture.
An implant-supported restoration is typically more expensive than traditional bridges or dentures, but far less than replacing teeth with individual implants. And because the stages of restorations may occur over a long period of time, the cost can be spread out to make it more manageable.
If you're facing a future where it's likely you'll lose all your teeth, you don't have to lose them all at once. Staged restorations with implants could help you hold on to your natural teeth for as long as possible, slow bone loss and make for a healthier mouth.
If you would like more information on the wide array of dental restoration options, please contact us or schedule an appointment for a consultation. You can also learn more about this topic by reading the Dear Doctor magazine article "Replacing All Teeth But Not All at Once."
By Summit Smile
July 18, 2020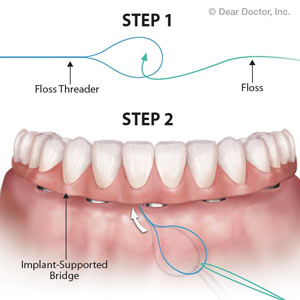 Losing your teeth can be a traumatic experience with serious consequences for your overall health. Fortunately, you have great options for replacing lost teeth that can restore both appearance and dental function.
One such option is a fixed bridge supported by dental implants. While implants are best known for single tooth replacement, they can also be used with other restorations like bridges. In this case, the bridge is screwed into a few well-placed implants to support it.
Implants can provide bridges with more security and support, and without the need to alter adjacent teeth that are commonly used for traditional tooth replacement. They may also slow or stop bone loss because the titanium in implants naturally attracts bone cells that grow and adhere to its surface and provide stimulation to the bone cells during function.
Because of these benefits an implant-supported bridge could be a life-changer that provides years of satisfaction. But we can't simply "set them and forget them": They require dedicated oral hygiene just like natural teeth.
While the bridge materials and implants themselves are in no danger from disease, the same can't be said for the implant's supporting gums and bone. Dental plaque, the main driver in gum disease, can place these tissues at risk for infection that could eventually lead to implant failure.
It's important, then, for you to floss around your new implants to remove any plaque. This differs from regular flossing in which you work the thread between teeth. Instead, you'll have to maneuver the floss between the bridge and gums with the help of a floss threader, a small slender tool with a loop at one end and a stiffer plastic edge at the other (similar to a sewing needle).
To use it, first run 18" of floss through the loop until you get equal lengths and then work the tail of the floss threader between the bridge and gums while holding one end of the floss. Once through, you pull the floss threader through so that the floss is on either side of the bridge. Then grab each end of the floss and pull it snug to floss up and down one side of the implant. Go to the next side and repeat this procedure for all the implants.
As an alternative, you could use an oral irrigator, which emits a pulsating spray of water to loosen and wash away plaque. Either way, though, it's important to floss around implants to get the most life out of your bridge.
If you would like more information on proper care for implant-supported restorations, please contact us or schedule an appointment for a consultation. You can also learn more about this topic by reading the Dear Doctor magazine article "Oral Hygiene for Fixed Bridgework."