Posts for tag: facial pain
By Summit Smile
March 30, 2020
Recurring episodes of severe pain along your face could mean you have trigeminal neuralgia (TN). Although not always curable, TN can be managed effectively with the right strategy.
TN affects a specific pair of nerves called the trigeminal that signal pain in the face or jaws. They originate from the brain stem through the skull on either side of the face, with each nerve having upper, middle and lower branches. TN can affect one or more of these branches and cause anywhere from a mild twinge to excruciating pain.
Causes for TN differ in individual patients. Though it could be linked to a tumor, lesion or cold sore, it most often seems to arise from a blood vessel impinging on the nerve and damaging its outer coating. This causes it to be hypersensitive: chewing, speaking or even lightly touching the face can set it off. The damaged nerve may also fail to "shut off" when the triggering stimulation stops.
If you have these types of symptoms, your first step is to obtain an accurate diagnosis. You'll need a thorough examination to rule out other possibilities like jaw joint problems or a tooth abscess. Once we've determined it's definitely TN, we can then devise a treatment strategy.
We usually begin with conservative measures like medication to block pain transmission to the brain or anticonvulsants that stabilize the nerve and decrease abnormal firing. If medication isn't enough, we may then consider an invasive procedure to control symptoms.
Percutaneous treatment — often recommended for older patients or those in poor health — involves inserting a thin needle into the nerve to selectively damage certain fibers that will prevent the nerve from signaling pain. We might be able to move an impinging blood vessel aside from the nerve with a microsurgical procedure. As an alternative to surgery, high-dose radiation could also be aimed precisely at the pain site with a controlled beam to alter the nerve's ability to transmit pain.
TN can be a source of great discomfort that lowers your quality of life. But employing treatment techniques that best suit your situation, we can greatly reduce the misery it inflicts.
If you would like more information on facial pain caused by trigeminal neuralgia, please contact us or schedule an appointment for a consultation. You can also learn more about this topic by reading the Dear Doctor magazine article "Trigeminal Neuralgia: A Nerve Disorder that Causes Facial Pain."
By Summit Smile
November 11, 2019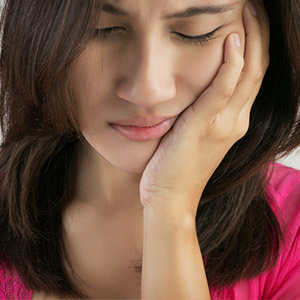 Each year doctors treat about 150,000 new cases of severe facial pain. If you're one of those people, you don't have to suffer—there are ways to gain relief from these painful episodes.
Those recurring episodes are known as trigeminal neuralgia (TN). As the name implies, the source of the pain are the trigeminal nerves, which originate in the brain stem and extend on either side of the face. Each is divided into three branches (hence the "tri" in trigeminal) that serve the upper, middle and lower parts of the face and jaw.
TN can involve one or more of these branches, resulting in mild to severe pain that can last for several seconds. Jaw movements like chewing or speaking can trigger an episode, as well as a light touch to the face.
There are various proposed causes for TN, including links with inflammatory disorders like multiple sclerosis, which damages the insulating sheathing around nerve cells. The most common cause, though, appears to be a blood vessel pressing against the nerve. The compression causes hypersensitivity in that area of the nerve so that it transmits pain at the slightest sensation.
Other conditions like jaw joint pain disorders (TMD) or a dental abscess can cause similar pain symptoms, so it's important to get an accurate diagnosis. If your doctor does identify your condition as TN, you may then need a comprehensive approach to treatment involving a team of care providers, including your dentist.
For the most part, TN can be managed, beginning with the most conservative approach to gain relief, often with medications to block the nerve's pain signals to the brain or decrease abnormal nerve firings. If that proves insufficient, though, more intensive treatments are available.
One possible treatment for an impinging blood vessel is a microsurgical procedure to expose the affected nerve and relocate the vessel. While this can be effective, the surgery does carry some risk of facial numbness or decreased hearing. If the risks are too high for conventional surgery, an alternative procedure uses a precise beam of high-dose radiation to relieve the pressure from the vessel.
The most important thing to know about TN, though, is that it is possible to control it and relieve future pain episodes. If you're experiencing these symptoms, see your dentist or doctor for an exam and accurate diagnosis.
If you would like more information on trigeminal neuralgia, please contact us or schedule an appointment for a consultation. You can also learn more about this topic by reading the Dear Doctor magazine article "Trigeminal Neuralgia: A Nerve Disorder that Causes Facial Pain."