Dentist in Lees Summit, MO
All our professionals at Summit Smile maintain the highest levels of accreditation and pursue ongoing education to stay abreast of the latest trends in dentistry.
Bradley Smith, DDS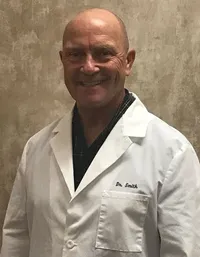 Hello, I'm Dr. Brad Smith. In 1990, I graduated from the University of Missouri-Kansas City School of Dentistry as a member of the Clinical Honors Program. Immediately following, I equipped a small, new office space in Raytown, Missouri, and began practicing General Family Dentistry with an emphasis in "Cosmetic Dentistry."
Over the next six years, my practice had grown and in 1996 I co-founded a group-oriented cosmetic practice in Independence, Missouri. From 1996 to 2001, my partners and I traveled throughout the United States and Canada to share and increase our knowledge with other leading "cosmetic" dentists. I continue to actively pursue advancements in dentistry through continuing education.
Long before the hit television series "Extreme Makeover" was created, my partners and I were performing beautiful smile makeovers on our patients, people just like you!...doctors, lawyers, truck drivers, homemakers, ministers, and so on. Our patients realized they didn't have to be rich or famous to receive the smile of their dreams, but only posses a desire to improve their appearance and willingness to place their trust in our skills.
In 2001, our practice had once again outgrown it's physical boundaries, and I decided to relocate my portion of the practice and my patients to the beautiful city of Lee's Summit, Missouri, a city in which I had desired to live for many years. I built my present, state of the art facility, equipping it with the absolute best equipment and furnishings available. I continue to treat patients one person at a time in an effort to provide dentistry for the entire family on a personalized, compassionate basis. Children benefit from my desire to avoid, and or, to eliminate fear of the dentist. I have become known as "the cosmetic dentist who welcomes the entire family."
I am a member of the following organizations:
The American Dental Association
The Missouri Dental Association
The Greater Kansas City Dental Society
The Eastern Jackson County Dental Health Group
Lee's Summit United Methodist Church
The Boy Scouts of America (I am also an Eagle Scout)

My wife, Barbara, and I live in Lee's Summit and have two children in college, a daughter and a son. As a family, we enjoy many outdoor activities, such as wake-boarding, water-skiing, wake-surfing, fishing and hiking.
On behalf of myself and my compassionate dental staff, I invite you and your family to join our dental family.