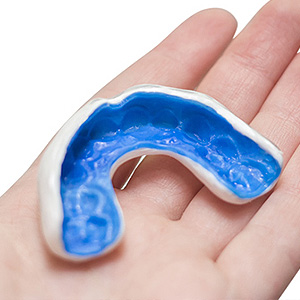 Other than tooth decay, children don't encounter dental disease to the extent adults do. But injuries are another story: More than 5 million teeth are knocked loose each year, and a high percentage involve children. Roughly a third of these and similar children's injuries are sports-related.
April is National Facial Protection Month: Several oral and facial health organizations, including the American Association of Orthodontists, have joined together to raise awareness about the risks of injury to the face and mouth, especially among children. Many of these injuries have long-term consequences with lifetime treatment costs in the thousands of dollars.
But as the name implies, this awareness month is also about protection—what you can do to help your child avoid a costly and devastating dental injury. Top of the list: Have your child wear an athletic mouthguard during all contact sports activities (including practices).
The National Federation of State High School Associations mandates mouthguard wear for football, lacrosse, and ice and field hockey. But those aren't the only sporting activities where a mouthguard should be standard equipment: In fact, basketball has more orofacial injuries each year than any other sport. Generally, mouthguards should be worn for any sports activity that involves potential contact with other players or objects.
There is a variety of mouthguard choices, but most fall into two basic categories, "boil and bite†and custom-made. The former, readily available in retail sports stores, get their name from the procedure employed when first purchased to adjust their fit to an individual player. Out of the package, they should be soaked in hot or boiling water until softened, and then placed in the wearer's mouth to bite down on. After they cool, they'll retain that bite pattern.
Boil and bite guards are relatively inexpensive, but the fit isn't as precise as a mouthguard that is custom-made by a dentist. This can lead to comfort issues—and players are less likely to wear an uncomfortable mouthguard.
Custom mouthguards, on the other hand, have a more accurate fit, allowing them to be thinner and more comfortable. They also provide the highest level of protection against blows to the face and mouth. These are more costly than boil and bite guards, and younger athletes may need a replacement every few years to accommodate jaw growth development. But compared to the physical, emotional and financial cost of a dental injury, custom mouthguards are worth the investment.
A mouth or face injury can happen in an instant and result in damage that can have lingering effects for years. For the best protection, see that your star athlete has and wears a custom mouthguard.
If you would like more information about mouthguard protection, please contact us or schedule a consultation. To learn more, read the Dear Doctor magazine article "Athletic Mouthguards.â€