Posts for tag: dentures
By Summit Smile
December 21, 2019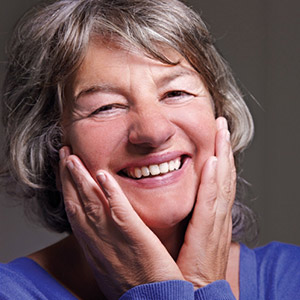 Think dental implants only replace individual teeth? Think again—this premier technology can also support other kinds of restorations to provide better stability and comfort. And, they also help improve bone health when incorporated with any type of tooth replacement options, especially dentures.
Although traditional dentures have enjoyed a long, successful history as a tooth replacement solution, they can interfere with bone health. That's because regular dentures fit in the mouth by resting on the bony ridges of the jaw, which has implications for the bone.
As living tissue, bone goes through a growth cycle with older bone cells dying and dissolving and newer cells forming to take their place. The teeth play a role in this growth cycle — the forces generated when we chew travel up through the teeth and help stimulate bone growth. When teeth go missing, however, so does this stimulus.
Traditional dentures can't replace this missing stimulus. In fact, the constant pressure of dentures on the jaw may even accelerate bone loss. A sign this is happening occurs when the dentures' once tight fit begins to loosen and they become uncomfortable to wear.
Implant-supported dentures can help eliminate this problem. We first surgically place a few implants in the jaw, the number determined by which jaw (the lower requires less) and whether the denture is removable or fixed. If removable, the denture has connective points that match the implant locations — you simply connect them with the implants. If fixed, the denture is screwed into the implants to hold it in place.
So, how does this help bone health? For one, the denture no longer puts as much pressure on the jaw ridges—the main support comes from the implants. And, the implants themselves encourage bone stimulation: The titanium in the implant has a special affinity with bone cells that naturally grow and adhere to its metal surface. This natural integration between implant and bone can stop bone loss and may even help reverse it.
If you're interested in implant-supported dentures, you'll first need to undergo a full dental exam with your dentist. These restorations aren't appropriate for all dental situations. But, if they can work for you, you may be able to enjoy the benefits of an implant-supported restoration.
If you would like more information on implant-supported restorations, please contact us or schedule an appointment for a consultation. You can also learn more about this topic by reading the Dear Doctor magazine article "Overdentures & Fixed Dentures."
By Summit Smile
January 24, 2016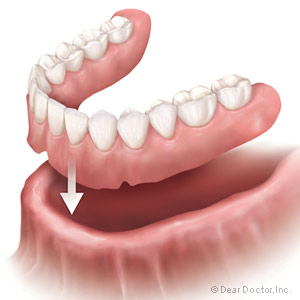 Since as many as 26 percent of older U.S. adults have lost all their teeth, there are a large number Americans who wear full removable dentures, also known as false teeth. You may be one of them.
How much do you know about dentures? See if you can answer the following questions connected with lost teeth and dentures.
Which word refers to the loss of all permanent teeth?

Atrophy
Prosthetic
Edentulism
Periodontal

What is the name given to the bone that surrounds, supports, and connects to your teeth?

Periodontal
Metacarpal
Tibia
Alveolar

What tissue attaches the teeth to the bone that supports your teeth?

Periodontal Ligament
Periodontal Muscle
Parietal Ligament
Achilles Tendon

When a person loses teeth, the stimulus that keeps the underlying bone healthy is also lost, and the bone resorbs or melts away. Pressure transmitted by dentures through the gums to the bone can accentuate this process, which is called

Dystrophy
Atrophy
Hypertrophy
None of the above

A device that replaces a missing body part such as an arm or leg, eye, tooth or teeth is referred to as

Robotic
Imaginary
Exotic
Prosthetic

When teeth have to be extracted, bone loss can be minimized by bone grafting. Bone grafting materials are usually a sterile powdered form of

Allograft (human tissue)
Xenograft (animal tissue)
Both
Neither

Wearers of full dentures must re-learn to manipulate the jaw joints, ligaments, nerves, and muscles to work differently in order to speak, bite, and chew. The name for this system of interconnected body mechanisms, originating with the root words for "mouth" and "jaw," is

Boca biting
Stomatognathic
Periodontal
None of the above

A type of plastic that is artistically formed and colored to make prosthetic teeth and gums look natural is called

methyl methacrylate
beta barbital
rayon
polystyrene

Success in denture wearing depends on

The skill of the dentist
The talent of the laboratory technician
The willing collaboration of the patient
All of the above
Answers: 1c, 2d, 3a, 4b, 5d, 6c, 7b, 8a, 9d. How well did you do? If you have additional questions about full removable dentures, don't hesitate to ask us.
Contact us today to schedule an appointment or to discuss your questions about dentures. You can also learn more by reading the Dear Doctor article, "Removable Full Dentures."
By Summit Smile
November 25, 2015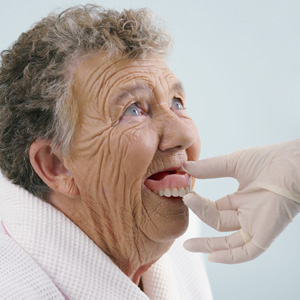 It's a common problem for denture wearers: after years of a comfortable fit, your dentures now seem to be uncomfortably loose. The reason, though, may have more to do with bone loss than the dentures.
Bone is a living tissue with a life cycle — it forms, it ages, and it eventually dies and dissolves (resorbs). It's replaced with new bone and the cycle repeats. Additionally, the forces generated when we bite or chew are transmitted from the teeth to the jaw, which helps stimulate new bone growth. When the natural teeth are missing, however, the bone no longer receives this stimulus. Resorbed bone isn't replaced at a healthy rate, which leads over time to bone loss.
Denture construction can also contribute to bone loss. The denture palate rests for support on the bony ridges that once held the teeth. Over time the compressive forces of the dentures apply damages and reduces the volume of gum tissue and eventually does the same to the bone. Combining all these factors, the reduced gum and bone volume will eventually alter the denture fit.
There are a few alternatives for correcting loose dentures. One is to reline them with new plastic, as either a temporary fix performed during an office visit or a more permanent relining that requires sending your dentures to a dental lab. Depending on the rate of bone loss, a patient could go through several denture relinings to accommodate ongoing changes in the jaw. At some point, though, it may be necessary to create a new set of dentures.
A third alternative that's becoming increasingly useful is to incorporate dental implants into the denture design. Implants can of course be used to replace individual teeth, but a few strategically placed implants (usually of smaller dimension) can serve as a support platform for a removable denture. This relieves some of the compression force of a traditionally worn denture and can slow bone loss.
If you're having problems with your denture fit, call us for an appointment. We'll help you decide on the best alternative to improving the fit and making your dentures more comfortable and secure.
If you would like more information on refitting loose dentures, please contact us today to schedule an appointment for a consultation. You can also learn more about this topic by reading the Dear Doctor magazine article "Loose Dentures."