Posts for tag: root canal treatment
By Summit Smile
May 13, 2017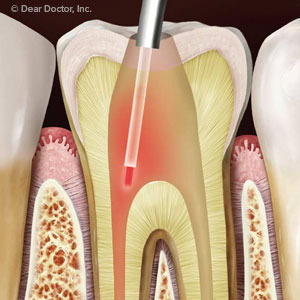 As in other parts of medicine, lasers are beginning to change the way we provide dental care. More and more dentists are using lasers to make earlier diagnoses of dental disease or provide surgical treatment. One area prime for change is the treatment of teeth with deep decay and in danger of being lost.
For decades now, the best way to save teeth in this condition is with root canal treatment. In this common procedure we access the pulp, remove the infected tissue with specialized hand instruments, and then fill and seal the pulp chamber and root canals with a special filling.
We can now potentially improve the efficiency and increase the success rate of this treatment with laser technology. With their focused light, lasers emit a concentrated burst of energy that's extremely precise. In many instances laser energy can remove the target diseased tissue without damaging nearby healthy tissue.
In this form of root canal treatment, we use lasers to remove tissue and organic debris within the pulp and then shape the root canal walls to better receive the filling. We can also utilize the heat from laser energy to soften and mold the filling, so that it better conforms within the walls of the root canals.
Using lasers in root canal treatments may require less local anesthesia than the traditional approach and also eliminates disturbing or discomforting sounds and vibrations. Dentists who've used the new technology also report less bleeding during the procedure and less pain and occurrences of infection afterwards.
But there are a couple of disadvantages for using lasers in root canal treatment. For one, light travels in a straight line — and many root canal networks are anything but straight. More complex root canal networks may still require the traditional approach. Laser energy could also increase the tooth's inner temperature, which could potentially damage tissues even on the tooth's outer surfaces.
Used in the right circumstances, though, lasers can be an effective means to treat diseased teeth. Â As laser technology continues to advance and becomes a mainstay in dental care, you may soon find it part of your next dental procedure.
If you would like more information on root canal treatments, please contact us or schedule an appointment for a consultation.
By Summit Smile
November 28, 2016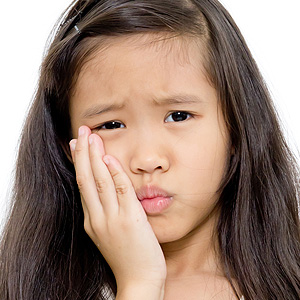 Primary (baby) teeth don't last long. But despite their short life span, they do a number of important things, like enabling a child to eat solid food. But perhaps their most important long-term function is "paving" the way for their permanent replacements.
If one is lost prematurely, though, the permanent tooth might not come in properly aligned. That's why if a primary tooth is in danger of loss due to decay or injury, we'll do our best to save it.
But that could get a little tricky if the infected or damaged part of the tooth is the innermost pulp. If it were an adult tooth, the best course might be a root canal treatment: access the pulp, clear out the diseased tissue, and then fill the space with a special filling. But with a primary tooth (or a young permanent tooth for that matter) that may not be advisable.
That's because the pulp plays a more important role in a child's tooth than an adult's. Its nerves and other tissues stimulate dentin growth; a full root canal could disrupt that growth and weaken the tooth in the long run.
With a child's tooth, we proceed carefully depending on how infected or damaged the pulp might be. If it's only slightly exposed or not at all, we try then to remove as much decayed tooth material outside the pulp as necessary, then apply antibacterial agents or dentin growth stimulators.
If we do have pulp exposure, we'll try to remove only as much of the affected pulp as necessary through a procedure called a pulpotomy. This technique will only be used if the remaining pulp looks healthy or restorable to health.
If not, we may need to perform a pulpectomy to remove the entire pulp. Most like a typical root canal, it's a last resort: without the pulp, dentin growth could be stunted and the tooth won't develop as healthy as it should.
Of course, the best approach is to prevent teeth from developing such problems in the first place. So, be sure to practice effective daily hygiene with your child and keep up regular dental visits beginning at age one.
If you would like more information on treating decayed primary teeth, please contact us or schedule an appointment for a consultation. You can also learn more about this topic by reading the Dear Doctor magazine article "Root Canal Treatment for Children's Teeth."
By Summit Smile
August 14, 2016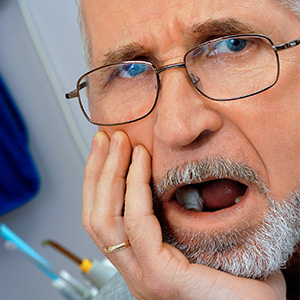 Your tooth is in peril if its innermost layer, the pulp, becomes infected and inflamed. Deep tooth decay, repeated dental procedures or fractures can all expose the pulp and ultimately the roots to infection and lead to tooth loss.
But that scenario isn't inevitable — we can often save the tooth with a root canal treatment. By accessing the tooth's interior through a prepared hole, we're able to clean out the infected tissue in the pulp chamber and root canals, and fill the empty space with a special filling. We then cap the tooth with a custom crown to protect it from a re-infection.
Root canal treatments have a very high success rate — chances are good your tooth will survive for many years afterward. But there's a slight chance the tooth may become re-infected; in that case, a second root canal treatment may be in order.
In a few cases, though, a second root canal may not be advisable, and could even accelerate damage to the tooth. For example, if past dental work resulted in an extensive crown restoration, accessing the root canals the conventional way will require disassembling that restoration. This could weaken the tooth significantly.
We can approach the problem from a different route: instead of accessing the tooth's interior through the crown (the visible part of the tooth), we instead perform a surgical procedure called an apicoectomy, which accesses the tooth at the root end through the gums.
In this procedure we numb the area with local anesthesia and then make a small incision through the gums at the level of the affected root. After access, we remove any diseased tissue around the root and a few millimeters of the root tip itself. We then insert a small filling in its place to seal the canal and prevent further infection. In some cases we may also insert a graft to encourage bone growth and aid in healing.
Over time, the affected area will heal and return to normal function. Even if a traditional root canal treatment can't be used, an apicoectomy could be another option for saving your tooth.
If you would like more information on your options for preserving a problem tooth, please contact us or schedule an appointment for a consultation. You can also learn more about this topic by reading the Dear Doctor magazine article "Apicoectomy."